13 Feb

Worried About Your Business' Security After Letting an Employee Go?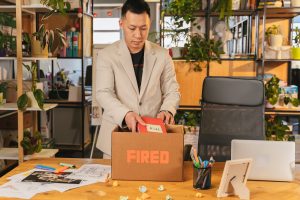 You are the head of HR at a Dallas based business and just found out that one of your employees has been drinking and doing drugs on the property or sending inappropriate emails to coworkers.  It's time to let that person go, but what if they retaliate physically, or come back to the company and hurt someone?
The Dallas – Fort Worth area employs almost 700,000 people from all walks of life.  With that many people, there are bound to be problems.  Having physical security on the property doesn't have to be one of them.
Letting an employee go from your business is always a stressful endeavor for all parties involved, especially in these uncertain times.  Whether you're an HR professional, IT manager, or immediate supervisor, there are a lot of things to consider regarding safety when it comes to severing a business relationship.  With on-site security guards, your physical safety, and the safety of your coworkers doesn't have to be an afterthought.
At Eagle Protective Group, one of our security professionals (whether it's one of our security guards or one of our off duty police officers) can and should be with you from the moment the employee is terminated until they have left the premises.  They can even patrol for a specific period until you feel that the danger has been abated.
On site security guards will make sure that the terminated employee is not frantically removing data from their computers, taking materials home with them, "poisoning the well" by communicating with other employees on their way out the door, or violating any other company rules before they are personally escorted off the property.  This will provide relief to co-workers, data managers, and allow for fewer opportunities for confrontations that could lead to lawsuits or PR disasters.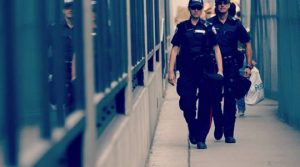 Communication during an employee termination is key.
HR needs to let the groups involved know when the employee is being let go, what accesses need to be revoked by the IT staff, and what route that employee needs to take to exit the building with the least amount of exposure possible to avoid causing a scene.  Employee identifications and security door badges need to be collected, as well as the employee's personal items from their desk or office.  Just as a lot of thought should go into hiring the right people for a job, so should as much thought go into what happens when that person is asked to leave that job.  A good security force can work with your company proactively to get all of these polices and procedures written into your company's HR handbook or other standard operating procedure manual before these problems arise.
A problematic employee isn't the only reason to have Eagle Protective Group's security officers on hand to assist your company.  Sometimes the company is reducing their workforce on a large scale and need the assistance of additional eyes to make sure that everything happens above board, no one walks out with anything that doesn't belong to them, and to generally manage the chaos that occurs when reducing staff en masse.
Having security guards assist with your next employee termination makes sense, can save the company time and money, reduce liability, and can allow the terminated person a chance to leave their place of former employment with some level of dignity.
---
Eagle Protective Group can serve your business with a safe response to letting go of your employees. Please contact us or call to set up a free consultation! 972-241-3881