22 Jan

Why Is Security in The Workplace Important?

There are many reasons why having Eagle Protective Group at your workplace might be a great idea.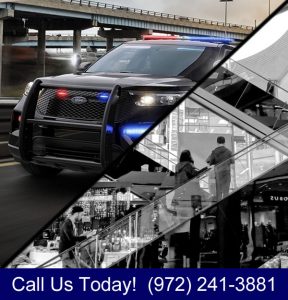 Below is a list of ten reasons why having our Dallas team on the job might even save you money as well as keep your business safe.
Having security in place will reduce liabilities to the company, may decrease insurance premiums, compensation, and other social security expenses to be paid by the company to the stakeholders.  If you are reducing operational costs, then it should lead to increased revenue.
Having security guards from Dallas based Eagle Protective Group will give peace of mind to other employees that the company has taken their safety seriously into consideration.
It may deter possible employee conflict during stressful times.
Security can assist with escorting employees who have been let go from the company off the property and ensure that they are not disruptive or have sabotaged anything on their way out.
Eagle Protective Group Security Guards can also deter theft in the company. This should lead to decreased materials costs, loss of intellectual property, or other company patents and secrets.  Our officers are trained to recognize suspicious behavior and with the help of CCTV, they can perfect preventative measures in addition to monitoring entry and exit points to critical and sensitive areas.  CCTV is also helpful for incident tracking and identifying workplace injury causes.
We provide access control to vulnerable points within the company and can monitor for suspicious activity from known or unknown potential assailants. We can assist in helping companies implement ID-based physical mechanisms that will prevent unauthorized access to protected company assets.  This is also a boon for employees as we can keep them out of harm's way when it comes to being around dangerous areas, hazardous chemicals, or other compromised areas of the building.
A Dallas security guard service like Eagle Protective Group can assist in helping to plan escape routes in the event of an emergency such as fire, terrorist attack, or problems arising from disgruntled employees. Emergency response is something that our former and off-duty officers know how to deal with intimately.
Having a guard, or multiple patrol guards adds a physical layer of safety that will become familiar to executives and employees alike and can provide a clear visual comfort that their safety is a primary concern.
Having one of our friendly but highly trained security guards at your front door or desk can also help act in a hospitality manner, welcoming guests to your building and business while also assessing potential threats and dealing with them proactively before they fully have access to the interior of the building.
Eagle Protective Group Security Guards help keep employee's cars and other valuables safe in the parking lot. They can also act as an escort to a vehicle if an employee is working late and doesn't feel comfortable going to their car on their own.
You should always keep the safety of your business and its assets in mind.  The goal isn't to make your business feel locked down like a prison, but to provide a level of security that every employee feels comfortable coming to work every day.
---
Contact us today for a free consultation on how we can protect your business, day or night, 24/7.