14 Aug

Top Additions for your Vehicle to Improve Security

At EPG, we use our excellently staffed security patrols to protect businesses and executives, however, what can you do on your own time to improve the security of your home or vehicle?

Below are a few after market additions you can add to any car to help protect you and your personal property from theft or other frightening situations.

We'll start with a must have item that won't break the bank.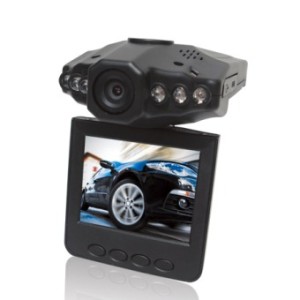 1. The DashCam
Popular in many Russian cities, cameras that record the front of the vehicle have become normal for car owners across the pond. Why you ask? Insurance scams and false accusations of accidents are so prevalent there, using a dash cam is the only way to protect yourself from insurance scams.
Dash cams provide another tool in your security arsenal too, they can be set to operate while your car is parked. You can aim them in any direction and catch perpetrators trying to steal your vehicle or break into it.
They're great to own even if you aren't in an accident. You may witness one and help another driver should there be a hit or run type of accident.
Dashcams range in price from $50-$200, but as a recommendation for covering the most quality with the best budget, we suggest staying in the 70-$100 dollar range.
Click here for the bestselling dash cams on Amazon.com.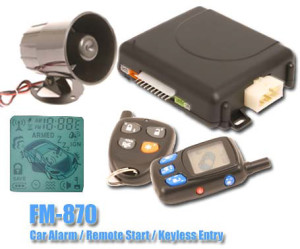 2. Commando FM-870
This suggestion goes out to those of you with late model cars or those of you wishing you had paid for keyless entry on your new cars when you had the chance.
Commando FM-870 allows you to do a multitude of things besides open your car doors without a key. It can start the engine remotely from 2,500 feet, or trigger an alert when your car has been forcefully started without your knowledge. You may need some help getting this accessory wired in correctly, but it's worth it.
Here's a tip about keyless entry systems on cars: Did you know that most keyless entry fobs can act as a security deterrent? Keep your keyless entry keyfob near your bed and set off your car alarm from your location if you hear someone breaking in to your home or a wild animal in the proximity. It may be enough to scare them away.
You can find Commando FM-870 here:
http://www.commandocaralarms.com/itemdetails.asp?ProductID=496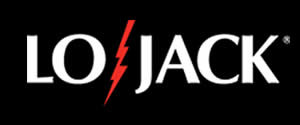 3. LoJack
We've all heard the name, we've heard stories about how LoJack has prevented the theft of the car because the device can sever the gas intake to an engine to make it stall.
It's not a cheap investment when it comes to car accessories, but think about what it protects. You and your family, not just your vehicle. What if your automobile was car-jacked and your children were in the back, your pet, or even important property?
Due to close ties with law enforcement organizations, LoJack homing devices actually show up in police computer systems. LoJack units are tied to a car's unique vehicle identification number (VIN), so when a car is reported stolen and the VIN is entered into the state police crime computer, that automatically triggers the LoJack Unit in the vehicle [source: LoJack].
That can be a very comforting addition when you have others to worry about.
The basic version of LoJack costs $695, but some of that cost can offset your car insurance by 35 % in some areas of the country.
More about LoJack can be found by clicking this link. 
---
We hope our security tips have helped you protect yourself and your family.
Eagle Protective Group loves their customers, and we take great care in understanding our customer's security patrol needs. Whether you need us for a short event, or long term for your church or school, EPG can cater our services to fit your exact profile.
We also offer services such as:
Security Guard Services for Businesses, schools, and churches.
Private Body Guards
Concierge Services
Celebrity Protection
Executive Protection Agents
Private Investigative Services
VIP Luxury Living Protection
VIP Transportation and more!
Contact us to find out how we can protect you or your business. 
---