09 Sep

Hurricane Safety and Security Services After the Storm
Eagle Protective Group has heard the call, and we're available for security services in Houston.
Many people in Houston and along the South Eastern edge of the state have suffered this year under the wrathful arms of Harvey.
The danger never really goes away after the storm has left. There's always damage to homes and buildings that must be repaired, down powerlines must be fixed to allow safe travels around town and then there's the inevitable flooding during and after the storm
We've gathered a few resources to help you avoid some pitfalls as an owner dealing with home after a natural disaster. This applies to tornado and hail damage anywhere in Texas, but we're addressing the residents who have been affected by Harvey.
Damaged homes can lead to looting.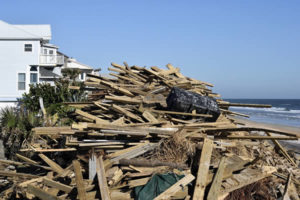 If your neighborhood has sustained substantial damage, address your security concerns with your insurance agency or pool your resources with surrounding neighbors to hire a security guard to watch your street while you are at work or away getting supplies to repair your home.
If none are available, call us, or a nearby city because we are ready and on standby to send our staff wherever they are needed.
You've already lost so much, don't let thieves take what's left and potentially steal something sentimental or valuable from your home.
Insurance or Contractor Scams
Unscrupulous people come out of the woodwork during natural disasters.
Potential scams that have been reported and to stay aware of:
Robocalls or Emails pretending to be insurance agents, informing you that your flood insurance premiums are overdue.
Door to door 'Repair' people, ready to fix your damage without any information about their licensing or history. Do your due diligence and find out exactly who you are dealing with!
High fee scam-like sounding loans with exorbitant interest rates. This will capsize you and your credit if you cannot pay back these loans. Apply for federal assistance first, before relying on a company to help you rebuild.
Other helpful links:
https://www.consumer.ftc.gov/blog/2017/08/hurricane-harvey-scams-callers-lie-about-flood-insurance
http://time.com/money/4918469/harvey-charity-scams/
http://abc13.com/robocall-insurance-scam-targets-harvey-victims/2371498/
Rumor Control
During and after a natural disaster like a hurricane,  rumors develop and this can endanger you and your family if you make the wrong decision based on false information. FEMA has a great page addressing these rumors and puts them to rest with correct information.
At Eagle Protective Group, we want all Texans to be safe, during good times and bad. If you think you may need help with security and finding a company near you in Houston is not possible, we're only a call and a few hours away. We're here to help.
Call us now at 888-85-Eagle or contact us so we can discuss how we can help you, your family or your business back on its feet!!!!