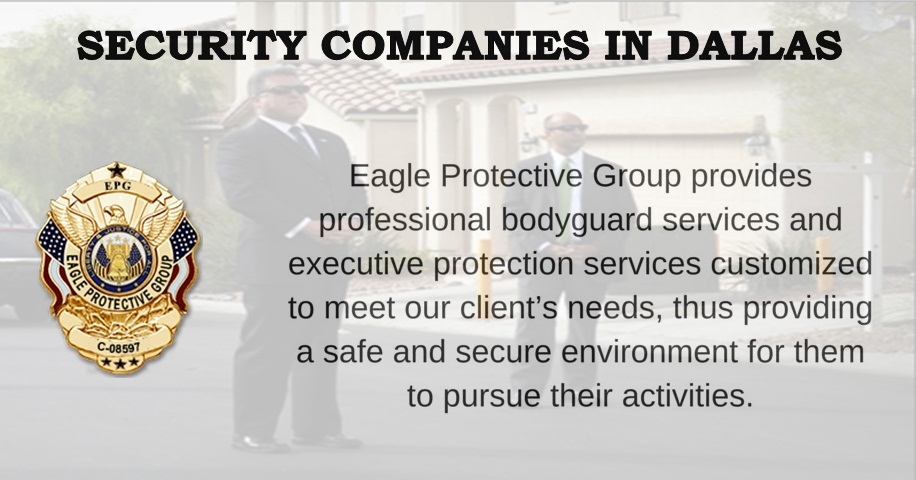 02 May

Security Companies in Dallas – What is Their Motive of Existence?

When you are out shopping or having dinner, do you feel insecure with the level of security around you? Do you feel the need for more beefed up security owing to the societal imbalance and frustration coming out on random, unrelated people? As a company, what do you think is the reason behind hiring a security provider? Do you feel satisfied with the level and quality of security your security provider is offering or has promised to offer? These are a few of the many questions that revolve around our heads when it comes to personal and family safety but an answer or a solution that precisely relates to the situation is yet to be found or discovered.

When we talk about security, all we need is self-assurance that our safety will not be compromised but this key aspect is what many security providers fail to reassure their clients. Security companies in Dallas are trying to find their motive of existence because confidence in what they provide as services makes them capable of ensuring safety and security and for most of these security providers, confidence is one thing that they lack when taking in clients.

Most security companies have made a business out of fake security services, untrained and unarmed staff, and physically incapable bodyguards. However, organizations still hire these companies in order to satisfy the Maslow's Hierarchy of Needs where safety and security comes second when it comes to satisfying employee needs in an organization.

If you are searching for a true security provider that really offers what it says and ranks their client safety as top priority then you need to dig deep by putting in some time and effort. Do not be worried about the time it takes because although companies label security services as a useless expense, it actually helps boost employee morale and motivates them to work more loyally and effectively.

Now, if we look into the residential side, security services look a lot more of a luxury than a necessity because most households are already suffering from an economic crisis that is soon to come upon us. With minimum wage jobs or no jobs at all, security services do seem a bit much when you have nothing going your way. For those who are able to afford security services applaud the home security systems but complain about the delay in the reinforcements arriving in case of an undesirable event.

Let us have a look at some incidents from around the world that would have been avoided if adequate security measures had been taken in the first place.
We all heard about the Sydney siege that took place last December at the Lindt Café in Martin Place, Sydney, Australia. The situation grew worse as the day proceeded and ended in two casualties.
School shootings around America have been increasing recently and it often results in casualties like the one involving a 23-year old killing 32 at Virginia Tech (Blacksburg, Virginia) and injuring several others in April of 2007.
In November of 2011, a man with a semi-automatic rifle was able to park his car near a street of the White House and fired multiple times, causing damage to the first family's home.
Other recent incident is from the Bloomington High School in the early 2015, which although had no casualties but left a question on the security system of schools.
The failure in adopting the right security measures or a trained and experienced security provider has led to situations worsening. The lapses in security can cause great damage but no one seems to care about security although, laws are in place to secure the residents.
The right security companies in Dallas will have several security services to offer like:
Manned Guarding

Colleges, Schools & Nurses
Office Security
Shopping Centers & Retail Stores
Construction Sites
Building Security (Empty & Occupied)

Residential Patrols

Vehicle & Foot Patrol (Depends on Budget and Area)
Neighborhood Patrols
Armed & Unarmed Guards (Depending on your Needs)
Meet & Greet (Escort services)
Immediate Response (Faster than Police Response)

Close Protection

Executive Protection
VIP & Celebrity Body guarding
Threat Mitigation & Protective Intelligence

CCTV and Alarm Response

Wireless Alarms
CCTV
Intruder Alarms
Audio & Video Door Entry System
When working as security providers, the state requires security companies to obtain a license. The procedure involves criminal background checks and mandatory training. These laws have been in place for a long time but the increase in the number of crimes has led us to believe that the laws are inadequate or the licenses have been obtained through illegal trade.
Most companies display their mission statement / vision on their website, which can help us understand their motive of existence. Although, they may have hired some people to write up fancy words to impress clients, our judgment can help us choose the right from wrong.
Eagle Protective Group is one of the reputed security companies in Dallas that will prove that their motive of existence is what they truly offer.