18 Jan

Internet Security Tips: The Blackmail Scam

Eagle Protective Group offers more than security guard services in Dallas, we go out of our way to educate and inform the public on various security related situations that can affect you at home and away.

This week we're talking about protecting your children (both young and adult children) from various scams aimed solely at them.

Children these days are brought up in a totally immersive atmosphere of social media, online gaming, and communication.  As parents, it's crucial to discuss all the dangers that lurk in all of these avenues, but one that may overlooked is an embarrassing topic.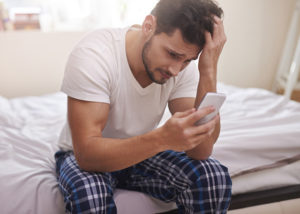 It's very important that you as a parent, sit your child down and discuss the nature of Blackmail Scams perpetrated through communication software such as Facebook video, Skype, and any other software that allows mutual video camera connections. Talking with them now, will save them from scams like this well into adulthood.
Teenagers especially, spend an inordinate amount of time online talking with friends and strangers about anything and everything. When it comes to hormones which are raging during this period of life, it's easy to control the conversation by inventing a close love relationship between two individuals that don't even know each other in the real world. Males especially, with the expectation of "show me yours and I'll show you mine" fall prey to strangers on the internet making demands of them to show themselves in compromising positions.
While most black mail scams target males, females are equally at risk.
The stranger on the other end of the connection will ask your child to take photos without their clothes on or even worse, perform sex acts upon themselves in full view of the camera.  The stranger will then show the video back to your child on youtube or other video sharing site and demand a ransom or else the video will be published on Facebook or other social media in front of parents, friends, and fellow employees.
While people who commit these blackmail crimes do not all have the power to spread this video around the internet in a way that will tear your child's social life apart (and yours), many do, so it's important, VERY IMPORTANT to explain to your children that nothing good ever came from dropping their pants on camera for a stranger online.
Most of the requests for nudity on the internet are part of these black mail scams and your children (young and adult) need to know this. Never be afraid to sit down with them and explain that the people they meet online may not even be "real", just scammers with fake photos to lure them into doing sexual acts on camera so they can be blackmailed later.
For more information fighting and avoiding these blackmail scams, please visit the following links:
http://www.bbc.com/news/magazine-37735369
http://www.tomsguide.com/us/italian-seductresses-blackmail-men-skype-sex-scam,news-18464.html
---
Eagle Protective Group loves their customers, and we take great care in understanding our customer's private security patrol needs. Whether you need us for a short event, or long term for your church or school, EPG can cater our services to fit your exact profile.
We also offer Private Security Services such as:
Gated Community Security (Guards)

Security Guard Services for Businesses, schools, and churches.

Private Body Guards

Concierge Services

Celebrity Protection

Executive Protection Agents

Private Investigative Services

VIP Luxury Living Protection

VIP Transportation and more!
Contact us to find out how we can protect you or your business.